Patient guidelines for Hyperbaric Oxygen Therapy
Hyperbaric oxygen therapy (HBOT) is an innovative treatment that is FDA approved to treat a wide range of medical issues, from decompression sickness to non-healing diabetic wounds. The treatment involves supplying patients with 100 percent oxygen in a pressurized environment, which increases the oxygen in the blood and makes it more readily available to treat illness and injury. If your doctor has recommended HBOT for you, there are a few guidelines you should understand before you begin treatment.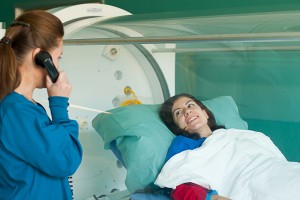 Things to consider before starting Hyperbaric Oxygen Therapy
From a practical standpoint, it's wise to check with the clinic to make sure your insurance covers HBOT for your condition before you start treatment. Typically, many sessions are necessary as part of a treatment protocol, like taking an antibiotic.   Ask about a "cash pay" rate if insurance is not an option. There are few or no side effects, but a trained and experienced healthcare professional is required to be present during your treatment, and can answer any questions or concerns and is readily available.
Preparing for Hyperbaric Oxygen Therapy
Talk to the hyperbaric doctor about any medications you are taking. You might be asked to avoid certain medicines before your treatment because of how they interact with oxygen. Some chemotherapies, certain topical ointments, and medication that prevents alcohol intake are examples of medications you'll need to avoid. Other than that, there's not much you need to do to prepare, but do not come to your appointment if you are sick. A cold, high blood pressure, fever, a stomach bug, or flu-like symptoms can all cause complications if you undergo HBOT. You should shower before your appointment, and don't use perfumes and deodorants that day. You can expect to be there for a while: treatment usually takes upwards of 90 minutes.
What to expect during Hyperbaric Oxygen Therapy sessions
When you arrive for your appointment, you will be given a cotton gown or scrubs to wear during treatment.  During your session, you will just relax! Some patients take a nap during the treatment, while others choose to listen to music or watch tv. For the first and last 5-7 minutes you may feel like you are landing on an airplane because you will feel the need to "pop" your ears to equalize the pressure change. The medical staff will instruct you on ways to clear your ears and will be talking with you to help you avoid any possible discomfort or ear pain.  The entire process should be comfortable and painless.  Safety precautions for hyperbaric oxygen therapy are in place, so your risk of ill effects from the treatment is low.
Trust the Hyperbaric Oxygen Therapy Experts
Innovators in hyperbaric medicine, Baromedical Associates provides the most advanced and effective therapy available, offering expert services in a luxurious, private setting. Our certified, experienced technicians and multi-disciplinary physicians work to provide each individual with a treatment program designed to offer the best possible outcome. We are internationally known for our work with children, and we treat all ages at our clinics in the Dallas Metro area. At all of our state-of-the-art clinics, patients receive Hyperbaric Oxygen Therapy in the world's most advanced and spacious acrylic single person chambers. To find a location or for more information, contact us through our website.